ENTERPRISE SOLUTION
Accurate Assessment. Powerful Insights. Proven Methodology
Configurable, advanced assessment tools for powerful insights into the candidate's profile.

Job Fit Candidate
Eliminate bias and identify the best applicants with Questy's pre-recruitment assessments to measure aptitude, cognitive ability and domain expertise.

Reduce Time to Hire
Automated workflows that eliminate repetitive tasks and streamline complete recruitment process.

Evidence based Hiring
Valuable data driven insights that enable ease in classifying resumes, assessing the candidate's profile and hiring the right people in the right job.

Real-time Analytics
Get data driven insight into each candidate with our custom-built assessments and make the right hiring choice.
Recruitment Solutions with a Difference
Each successful 'New Hire' is an amalgamation of systematic processes, resources, quality metrics and compliance with company policies and laws.
Questy allows you to build a recruitment process that is stable, reliable, productive and malleable. Our benchmark is our quality that warrants total return on your investment.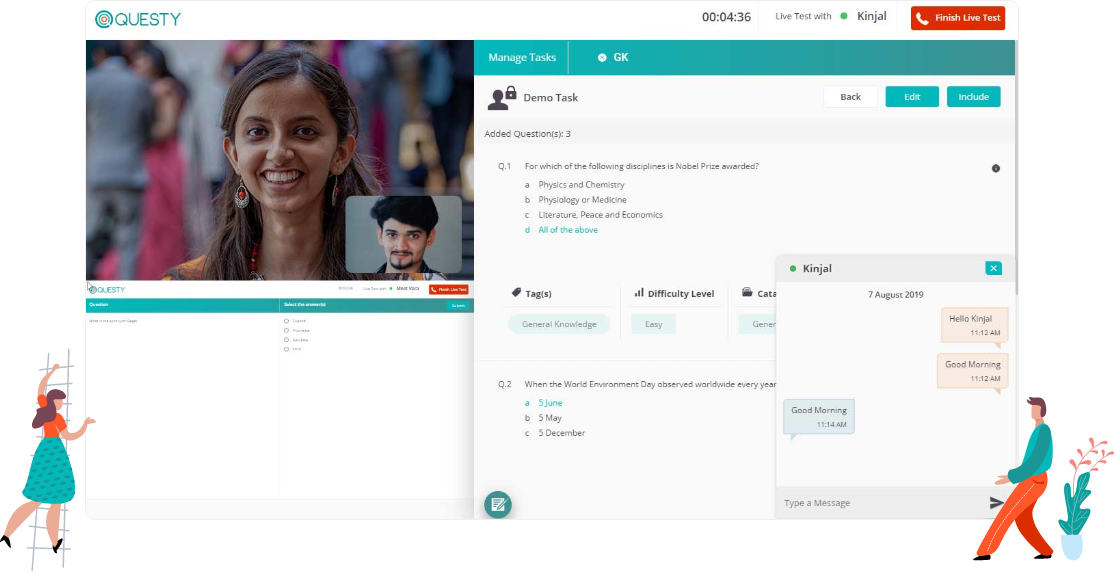 Enterprise Features

Online Remote Proctoring
Maintain authenticity of candidates' online assessments with remotely proctored and secured online tests, live video & image proctoring to preserve examination integrity

Comprehensive Reports
Data-driven, comprehensive, and insightful reports that help analyze candidates' performance and job-suitability
Authentic Recruitment
Impersonation, fraudulence and plagiarism are the biggest challenges faced with online screening services.
Questy's robust, state-of-the-art online proctoring control and browser tolerance are designed to prevent impersonation and detect anomalies.
Reduce Recruitment Costs
Streamline the entire hiring process with clockwork efficiency. Reduce employee onboarding time with automated resume selection & screening.
Create multiple assessment templates that can be reused to save time, expenses and human effort.
Increase Employee Retention
Select the right candidate for the right role and significantly reduce employee attrition. Inculcate a learning culture to build capabilities of your in-house talent.
Questy's LMS plug-in makes learning effective while saving administrative costs and time.
One-stop Hiring Solution for Multiple Roles
Fast track recruitment solution for multiple positions across verticals with Questy's extensive library of assessments.
Get the best from Questy's knowledge base by tailoring your assessment as per your criteria to identify the right candidate.
Talent From Across The Globe
Acquire the best resources for your company by overcoming geographical constraints without any hassle.
Conduct live interviews, proctored assessments on coding and behavioural profiling assessments on Questy to recruit the right talent.